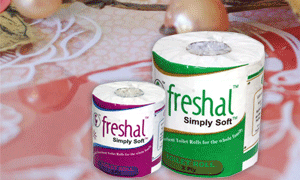 Toilet Rolls
freshal Toilet Rolls are soft and strong to use and are made under hygienic environment. Catering to our customers taste, we manufacture Toilet rolls ranging from economical rolls to Family size pack.

Toilet Rolls are made out of 15 to 17 Gsm of Paper, 2 Ply with an attractive embossing to give it an attractive look. We manufacture Toilet Rolls for Retail sector to Offices to Hotels. Our Toilet Roll weight in grams and length in meters varies depending on to the customers requirements.

Toilet Rolls are packed with attractive Packaging and are packed under neat and clean environment.

We don't compromise with quality and try our level best to deliver the product of the highest quality to our customers. You can find our Toilet rolls in the leading stores, retail shops and hotels.