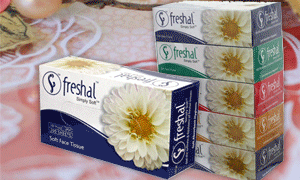 Facial Tissue
freshal Face Tissue is soft to use and come under very attractive Packaging satisfying our customers in all aspects.

Our face Tissue range varies from single pack to combo Pack of 5 face Tissues.

Face Tissues -2 Ply are made under different sizes that varies from 15 cm * 20 cm to 20 cm * 20 cm .The Face Tissues are packed in a pack of 25 Pulls to 50 Pulls to 100 Pulls Per packet depending on the customers tastes. We pack these Face Tissues in very attractive & colorful Tissue Box and our face tissue is soft to use and are of a very high quality.

You will enjoy using our tissue Box while you dive your car, work at office or stay at a hotel.